As we consume a growing number of services over the internet and add connected devices to our homes, a fast Wi-Fi connection with a stable, continuous whole-home coverage is an absolute must. At present, 1 in 3 homes are not satisfied with their Wi-Fi and large homes with an unusual layout or brick-made inner walls are likely to face disconnections, slow connectivity and dead-spots across their home. Smart home devices enhance our daily life, deliver safety and savings but together with the growing amount of videos we stream at home, increase the need for better coverage in the home and accelerates the demand for connectivity. The growing number of screens in every home and children spending an increasing amount of time on the internet drives the need for families to have better control over their Wi-Fi network.

Inverto's OneNet™ mesh Wi-Fi system addresses these issues, offering an upgraded Wi-Fi solution that is super fast, friendly and future proof.

OneNet™ employs a unique and patented high-speed transceiver circuitry and a dual band twin 2x2 antenna arrays to deliver solid throughput performance and support beamforming and MU-MIMO capabilities. It works with all internet service provider supplied equipment and speeds and is easy to install and configure. It can be managed from a phone with a user-friendly mobile app providing users full control over the network anytime, anywhere allowing instant setup, configuration, software updates, parental controls, remote access, and easy guest access. The mobile app is available for download on Android and iOS smartphones.
The aggressive roadmap towards Wi-Fi 6 and a state of the art cloud-based network management tool makes the Inverto® OneNet
™
MESH WIFI solutions ideal for ISPs wishing to offer new services to their subscribers, deliver first class customer service and grow their business through new revenue streams.
The OneNet™ Essential pack is supplied with 1x OneNet™ router and 4x OneNet™ mesh nodes, however, as your home and family expand, you can easily add more nodes.
The OneNet™ Pro
pack consists of 3x OneNet
™
routers and targets large homes / small office setups and can be further extended by adding OneNet
™
routers or OneNet
™
mesh nodes depending on the size of the area that needs to be covered.
Main Features:
Proprietary MESH technology based on innovative radio frequency theory, increasing data transfer rates
MU-MIMO and beamforming technologies
Single network name & expandable coverage
Future proof Wi-Fi through automatic software updates
A simple app to setup, control and manage your Wi-Fi network
Cost effective design
Carrier-grade device management (TR-069)


The OneNet™ App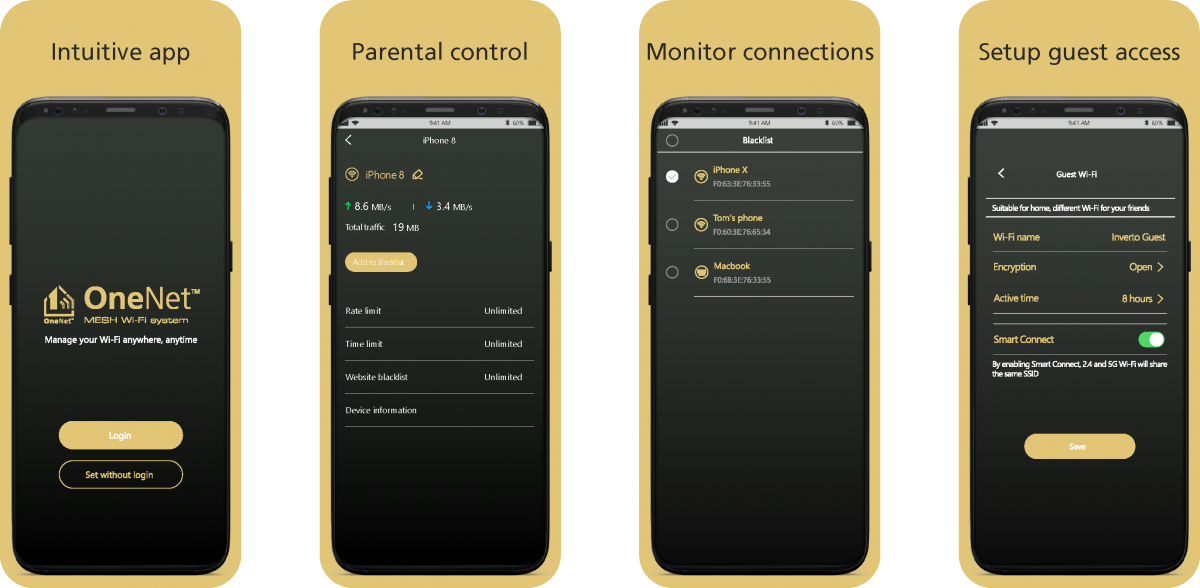 OneNet™ Mesh Wi-Fi Open-space Coverage(sq.m)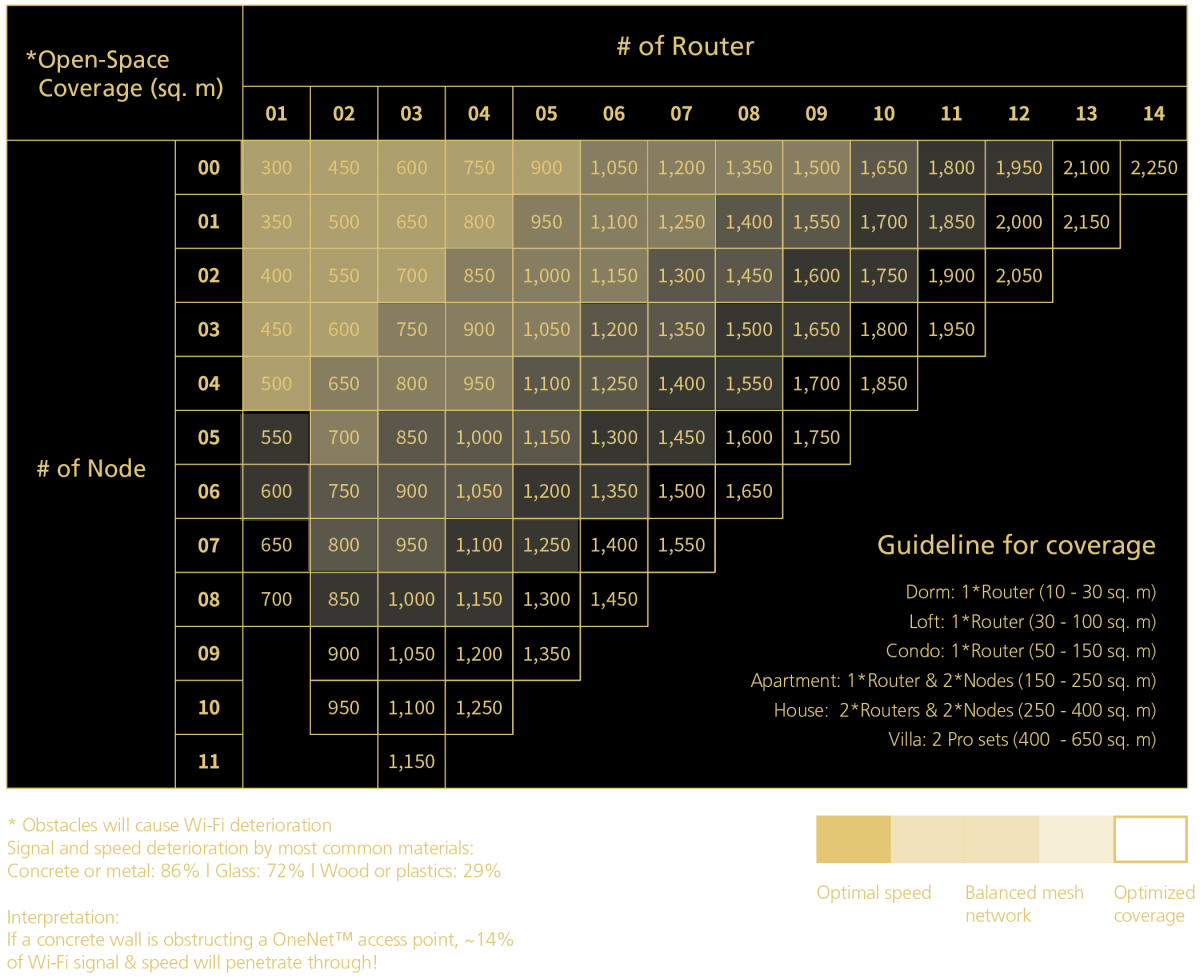 ---
Technical specification
Frequency bands
2.4 GHz & 5 GHz
Antenna
Proprietary WHEMS twin 2x2 antennas
Wireless rate
2.4G: 300 Mbps 2x2; 5G: 867 Mbps 2x2
Transmission standards (router)
802.3 / 802.3u / 802.3ab
Wireless protocol
802.11 a/b/g/n/ac compatible
Dual frequency concurrency
Yes
Antenna gain
2.4 G: 3.5 dBi / 5G: 5.0 dBi (Router)
2.4 G: 1.5 dBi / 5G: 2.0 dBi (Node)
Ports
WAN (router)
1000 Base-T Ethernet x1
LAN (router)
1000 Base-T Ethernet x1
LED
1 (Internet status & mesh status)
Reset button
1
Hardware
CPU
1 GHz
Flash
1 Gb
RAM
DDR2 128 MB
Software
WAN access mode
PPPoE / DHCP / static IP
STA access mode
DHCP / static IP
STA ACL
URL filter / mac filter / rate limit / time limit
App management

iOS / Android
Web local management

http://onenet.inverto.tv
VPN client
PPTP / L2TP
DDNS
DynDNS / Oray
LAN DHCP setting
LAN IP / pool / lease
Static DHCP lease
MAC and IP binding
Port forwarding
Yes
DMZ
Yes
WAN MAC clone
Yes
Firewall
ICMP Smurf, IP Land, IP Spoof, IP Teardrop, Ping of Death, TCP Scan, TCP SYN with data, UDP Bomb, UDP Echo chargen
System log
Yes
Customized DNS
Yes
Network diagnosis
Ping, Traceroute, Nslookup
Guest Wi-Fi
Yes
Bridge mode
Supported
Smart connect
2.4G/5G SSID separation
Power adapter (router)
DC 12 V/1.5 A, 100 V ~ 240 V 50Hz/60 Hz
Certification
FCC, IC, CE
Dimensions
Router: 100 mm × 100 mm × 125.5 mm
Node: 60 mm x 66 mm x 60 mm
---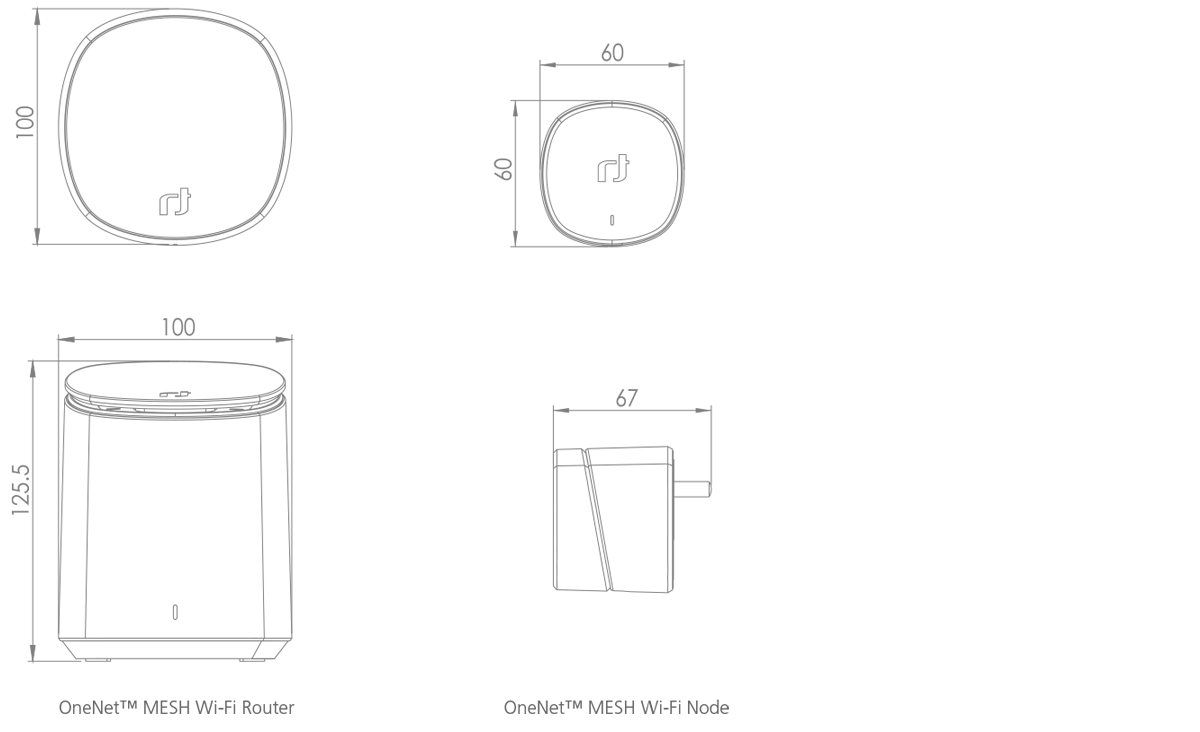 ---


Images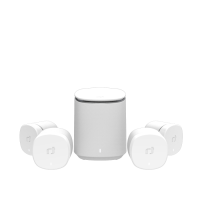 Download

Drawings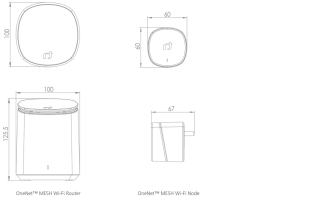 Download

FAQ
Q: What's the maximum number of Nodes that can be used?
A:
There is not a maximum per Router, but we recommend 6-8 for maximize speed.
Q: Can it replace the modem?
A:
It's a router, which needs to be connected to the modem.
Q: How does the Router connect?
A:
It connects automatically once you connect the power cable and the ethernet cable.
Q: How does the Router and Nodes create the mesh network?
A:
Both router and Nodes connect with the nearest devices to mesh together automatically.
Q: What should I do if I forgot the password?
A:
Reset your router if you forgot your password.
Here is the way of how to reset:
Press the reset button on the bottom of the M2, wait for 5 seconds until the indicator light is blinking in orange.
Press the reset button on the app.
Q: What other accessories come with the product?
A:
There are two packages for now:
Essential set: 1x Router + 4x Nodes + 1x Power Cable + 1x Ethernet Cable + Router Instructions + Node Instructions
Pro set: 3x Routers + 3x Power Cable + 3x Ethernet Cable + Router Instructions